The air was chilly, salty, and clear, and the waves were big chunks getting ready to pounce on us like hungry tigers. But instead, the enormous waves gracefully melded into the sand and washed the beach clean. Nevertheless, our racing hearts remained stuck in our throats from the waves that just moments before threatened to eat us alive. I caught my breath. Those waves, now at a distance, peered back at us – eyeballed us – mocked us – and then impishly burst out laughing at our frightened faces, and laughed even louder before reaching for Mother Ocean's arms. She picked them up, held them, smiled at them, and then she smiled at me too. I blinked.
It was the summer of 1998, with a bright blue sky morning of the annual Brotherhood Surf Contest in Northern California, and Hunter Joslin was in it. With a brace wrapped around his injured knee over a full wet suit, Hunter vigorously paddled to catch the biggest, meanest, dumping shore pound wave of the day, a wave that hung monstrously above everyone's heads. My mouth gaped; I couldn't move. I felt as small as a minnow while shadowed by the glistening wave's jade luster. Then with perfect timing, at the top of the wave, Hunter jumped to his feet and expertly cross-stepped to the tip of his longboard hanging ten into a soul arch then, held it, for what seemed like an eternity. Then with a great uplifting surge, the dinosaur wave in one deafening roar exploded onto the beach. Hunter, out on the tip, dove off headfirst behind the great wave and disappeared into the depths. As if suspended in time, that moment was divine. To see one move with such brilliant grace upon an incredible force of nature, an entity that cannot be fully or truly explained but can only be felt in its entirety with one's heart, I was silenced into awe. I saw two beings in love with each other, and nothing could have been more lovely. From that moment on, I knew that Hunter would be a profound part of my life. This is my story of one inspirational man.
Hunter Jerome Joslin was born September 30, 1951, to Charles and Anne Joslin. One of three sons with two sisters younger than himself, Hunter was the middle child. A natural athlete, he spent hours practicing and competing at the country club swimming pool in North Palm Beach, Florida. Although he loved swimming and competing, his first passion was surfing. Surfing was the latest teenage craze of the '60s, and Hunter was into it and spent every possible moment surfing. One day, he came upon a forgotten homemade balance board in the attic at the country club. Recognizing a valuable find, he immediately took possession of it. When he stepped onto the balance board to hang ten, he assumed the posture for a scant moment then, unexpectedly, fell hard flat on his back. Undeterred, Hunter dedicated himself to mastering it. Soon he learned the basics of standing on it with each foot end to end, and when he learned how to hang ten for minutes at a time, it gave him the same kind of feeling and freedom as if on a surfboard. Since Hunter was always at swim practice after school while his friends got to go surfing, he would come home after swimming and do his homework while riding the balance board. On weekends if there was no surf he would spend hours out on the sidewalk or in the garage practicing, perfecting, and creating new balance board tricks. The practice paid off. Perfecting his balance skills on his balance board translated to advanced skills on his surfboard. This combined with being a strong swimmer, he soon became more proficient at surfing than most of his friends who got to surf every day.
In 1973 he started working for Lower Eastside Surfboards as a sander and a polisher. With the newly discovered urethane wheels reviving the sport of skateboarding, Hunter began building skateboards, as well as skimboards, and balance boards, which led to the discovery of the unique Indo Board design when he mounted a skimboard on a roller. The wider deck allowed for a more stable ride, and a greatly increased range of motion, which brought hours upon hours of fun experimentation. In 1976 Hunter took a serious look at the possibility of designing and marketing a balance board when he traveled to Washington D.C. to research patents, and educate himself about the legalities and logistics of developing the concept. He quickly decided that the timing was not right and that his motivations were much more focused on following his surfing and skateboarding endeavors.
Surfing led him to embrace skateboarding as a means to stay in shape for the next swell, and he became well entrenched in the "Dogtown Era" of the sport. While managing the Skateboard Safari Skatepark in West Palm Beach, Hunter formed the Sims East Coast Skateboard Team. His frequent trips out to California shooting 16mm and Super 8 movies brought the latest skateboard moves back to the East Coast. The Sims team, consisting of Mike Folmer, Scott "Red" McCranels, Chris West, Chuck Lagana, and John Textor dominated the Florida skateboard competition scene. Along the way, Hunter discovered he had a knack for announcing these events with a comic flair and precise descriptive overview of the maneuvers and action. In 1978 Hunter was spending two weeks per month out in California, deeply immersed in the birth of vertical skateboarding. Traveling with Tom "Wally" Inouye, Curtis Hesselgrave, and Chris Strople, Hunter found himself announcing the first Henry Hester Pro Bowl Series. He also wrote numerous articles for Skateboarder Magazine. In 1979, as the fledgling sport of professional surfing was gaining momentum, he traveled to Australia with Larry Bertleman, Dane Kealoha, and Louis Ferrera, acting as their chief cook and bottlewasher, while surfing awesome waves with some of the world's best surfers. This proved to be a pivotal period in Hunter's life, as he formed lasting relationships within the world of pro surfing that continue today.
In 1983 he picked up the microphone at a pro surfing event in Jensen Beach, Florida. His broadcasting style, presence, and personality were an instant hit, effectively launching his m/c career in professional surfing. To date, he has announced over 150 professional surfing events including 16 ASP Pro Tour events in California, Australia, Barbados, Costa Rica, and the East Coast. He also announced the very first two Professional Wakeboard Tour events in 1991 as well as several events for the Women on Water Pro Waterskiing and Wakeboarding Tours. In 1998 Hunter was hired by NBC to be the Head Judge for the Gravity Games street luge and downhill skateboard events in Providence, Rhode Island. He made his national TV debut when he disqualified Biker Sherlock in a controversial skateboard race with Lee Dansie. Biker eventually went on to become the West Coast Distributor of Indo Boards. Throughout the years he has remained an avid surfer and has evolved into a world-class longboarder, recognized as a member of the legendary Donald Takayama Hawaiian Pro Designs team.
Hunter's worldwide surfing adventures have taken him to 23 countries including Japan, Barbados, Nicaragua, Panama, El Salvador, Costa Rica, Mexico, Peru, Ecuador, Chile, Puerto Rico, the Bahamas, France, Spain, England, Hawaii, the Philippines, Indonesia, Australia, and the Galapagos Islands. He parlayed his travel experiences into several different business endeavors, including a woodcarving and bamboo furniture import business from Bali, importing bikinis from Australia, and a travel agency for surfers. In the late nineties, he ultimately decided what he really wanted to do was pursue his passion and belief that he could design, build, and market a better balance board, one that was versatile, fun, and functional at the same time. This led to a nine-month research and development period; numerous deck and roller prototypes were made and tested. In the fall of 1998, the Indo Board Balance Trainer was incorporated and trademarked, and a new era in balance boards was launched. Originally designed to train surfers out of the water, Hunter soon discovered that the apparatus was much more than just a surfing simulator. Users reported increased leg strength and flexibility, so it became apparent that the Indo Board was an excellent cross trainer for all sports and fitness disciplines. Hunter's keen interest in the dynamics of balance led to a fervent study of the concept of proprioception, biomechanics, and functional mobility training. Today he has emerged as a qualified, passionate coach of balance training and advocate of core fitness, earning him such descriptives as the "Balance Sensei" and the "Balance Whisperer", or simply "Indo MAN".
But Hunter's Indo Board roller doesn't stop there. Childhood obesity has sadly become a national epidemic. Physical education teacher, Mr. Leighton Nakamoto, along with his colleagues at Samuel Enoka Kalama Intermediate School in Maui, Hawaii, helped Hunter write the Indo Board Curriculum for Physical Education for all grades, kindergarten thru college. During March 2007, Hunter, Mr. Nakamoto, and the Indo Board team introduced the Indo Board and the Indo Board curriculum at the American Alliance of Health, Physical Education, Recreation and Dance (AAHPERD) Conference in Baltimore Maryland. The response from the physical education teachers, university professors, coaches, and sports trainers was overwhelmingly positive. Mr. Nakamoto shared this success story: his usually, non-participating students had suddenly begun participating in class because they were having fun learning and progressing on the Indo Board at their own levels creating immediate self-satisfaction. Now his students were getting valuable exercise while developing self-confidence and enhancing their body proprioception. Clearly, Hunter's Indo Board has become a positive impact on many of America's youth by getting kids physically and mentally active while building self-expression and confidence in themselves.
Moreover, Hunter's Indo Board has made a positive impact in special education classrooms. Candee Stuchlik, 2008 AAHPERD Central District High School Teacher of the Year reported that she introduced the Indo Board into one of their special education classes. Her colleague uses the IndoFlo Balance Simulator (Board and Cushion) as they do their reading. They use the Indo Board as a focus mechanism, reward product, and as a calming device when students become upset and/or frustrated. Candee happily reports that her colleague loves it and her goal for next year is to have the Indo Board in the back of her room for some of her ADHD students.
The surf contest in Northern California where Hunter stilled our hearts is long-ago past, but even Mother Ocean stopped to watch and listen. Gratefully, through the years, I've watched Hunter surf and skate, as well as MC at events where he thoroughly enjoyed praising his friends, the athletes, while keeping them organized. Moreover, he truly and genuinely has a deep passion to help people from all walks of life, from the elderly that need help with their balance to special needs children, professional athletes, and Olympic gold medalists. But perhaps most importantly, it is not Hunter's company, the Indo Board Balance Trainer, a leading brand of balance training devices since 1998 (albeit a wonderful manifestation of his being) but it is Hunter, himself, his true essence, and the life that he leads that has inspired so many worldwide to want to get "Indo It" every day.
Join our Social Pages!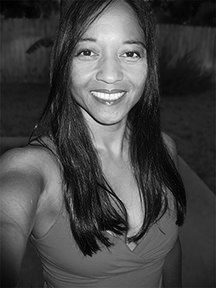 Georgette Akai Austria is the Director of Social Media and Sponsorship at INDO BOARD, blogger, graphic artist, community leader, but most of all, all she wants to do is go surf. She hates talking about herself in the third person and would rather learn more about you. Find Georgette on her Facebook page here.